MAGA Agency Bumper Stickers

---
Hardcover Combo w/MAGA Agency Package
Both of Mike's books in hardcover, Fifteen Years A Deplorable and Joe Biden Unauthorized, inscribed by Mike, also includes the bumper sticker bonus of the MAGA Agency Package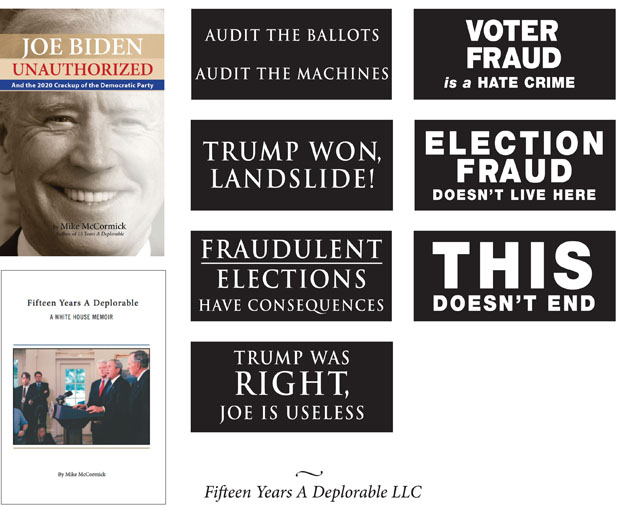 ---
Paperback Combo w/MAGA Agency Package
Both of Mike's paperbacks, Fifteen Years A Deplorable and Joe Biden Unauthorized, inscribed, also includes the bumper sticker bonus of the MAGA Agency Package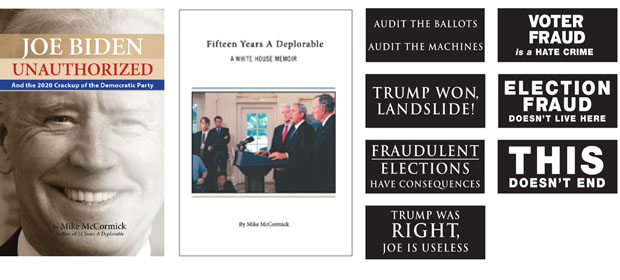 ---
MAGA Agency Package, our three most popular
Priced reasonably at $10, plus $3 shipping
---
Full MAGA Package, all seven must-haves Pass them on your MAGA friends and family
View the Seven Bumper Stickers in this package
Priced reasonably at $23, plus $3 shipping
---
---
America Needs the Truth
About Joe Biden!
Help Mike Get the Word Out!
Read it, Share It, Tell It!
Please share your opinion on my book!
Blue Lives Matter!
10 percent of sales for Joe Biden Unauthorized and the 2020 Crackup of the Democratic Party from my website or live author events — so no sales off Amazon or other bookstores — to the
National Law Enforcement Officers Memorial Fund
That's $3 per hardcover and $2 per paperback for a worthy cause that stands behind our men and women in law enforcement
Only orders within the United States are being accepted.
For international orders, please see Amazon online.
---
Mike's books:
15 Years a Deplorable: A White House Memoir [2019]
Joe Biden Unauthorized [2020]
---